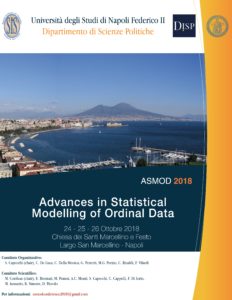 First Call for Papers
Ordinal data are ubiquitous in several scientific fields and an increasing amount of data is available to investigate perception and evaluation of many real problems. Thus, adequate modelling of ratings and preferences, judgements and opinions is a prominent issue in statistical research. After the successful experience of ASMOD2013, this Conference considers works from all scholars and academics on any topic related to ordinal data modelling and its applications. New approaches and innovative methods are especially welcome.
Keynote speakers:
AGRESTI (Florida, USA), B. GRUEN (Linz, Austria), M. KATERI (Aachen, Germany), E. RONCHETTI (Geneve, Switzerland), G. TUTZ (Munich, Germany)
Instructions for submission of abstracts:
Conference language is English. Applicants wishing to present original research should send to asmodconference2018@gmail.com a short abstract (few lines to describe the content of the paper), the title of the paper, the name of the authors(s), present address, e-mail and affiliation.
Deadline for submitting abstracts:
30 June, 2018
Final papers:
A LaTeX template will be available soon. Contributed papers should be maximum 4-6 pages to be published in the Conference Proceedings with ISBN. After the Conference, selected contributions will be considered for a full paper submission to a Special Issue of an international scientific journal.
Registration fees:
200 Euro which include: Conference materials, Proceedings, Coffee-breaks, Lunches, Conference dinner (further information will follow).
Contact:
For any information, please contact stefania.capecchi@unina.it